Change of leadership in the division "Smart Sensing and Electronics" at Fraunhofer IIS
At the beginning of the year, the baton of the Smart Sensing and Electronics research division at Fraunhofer IIS was handed over: The new division leaders are Dr. Denise Müller-Friedrich and Dr. Jens-Uwe Garbas. The founding father and previous division director, Josef Sauerer, retired at the end of March.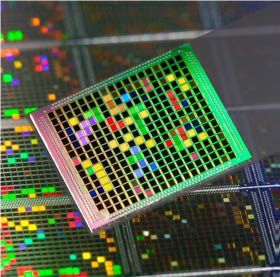 The "Smart Sensing and Electronics" research area at the Fraunhofer Institute for Integrated Circuits IIS in Erlangen works on the development and realization of practical and future-oriented solutions in the fields of medical technology, perception-based and integrated sensor systems, as well as on chip development (IC design). The integrated circuits developed at the institute are used in production plants and machines or in vehicles of well-known manufacturers.
In the context of "cognitive sensing", the department researches technologies for sensing and data transmission techniques as well as analysis methods. This adds a cognitive component to the function of the classic intelligent sensor.
The new duo
Dr. Jens Garbas, an electronics engineer, joined Fraunhofer IIS in 2010 after completing his doctorate. Among other things, he was responsible for strategy and business unit development in the field of image sensors and artificial intelligence. Most recently, he established a new business unit for perception-based sensor technology at the institute. His new responsibilities will primarily include overall strategy and personnel management. "My goal is to enhance even more synergies between the business units while building on the strengths of our existing research areas. Strategic initiatives and new partnerships will be of particular importance," says Dr. Garbas.
Dr. Denise Müller-Friedrich received her doctorate in chemistry from the University of Bayreuth. After holding various positions in scientific institutions, she moved to industry in 2014 and was most recently Head of Sales and Strategic Marketing at the Seuffer Group. In 2017, she became an advisor at Fraunhofer IIS responsible for parts of the Smart Sensing and Electronics division. Now she will primarily take care of organizational development, strategy and business processes, and finance. Dr. Müller-Friedrich: "Our vision of developing smart sensors, microelectronics and software for a better everyday life is what drives our research work. We want to build on the technical and strategic successes of the past years, launch new initiatives and optimally network topics and people."
The predecessor
As a man of the first hour, Josef Sauerer has been instrumental in shaping the core competence of microelectronics at Fraunhofer IIS over the past 35 years. In 2014 he began with the establishment of the Smart Sensing and Electronics division, which today has more than 120 employees and an annual budget of around € 23 million. Together with partners from industry and academia, the division is working flat out not only on solutions for today's and tomorrow's markets, but also on building blocks for a sustainable and livable society in the change of digitization.