Nondestructive testing system for manual testing
Nondestructive testing (NDT) sensor systems are essential for quality assurance in a wide range of industrial sectors. However, the current unwieldy testing system concepts are rather limited. This applies especially to testing, since testing often has to be carried out in areas that are difficult to access. Kevin Becker from Fraunhofer IZFP is researching technologies to facilitate their use.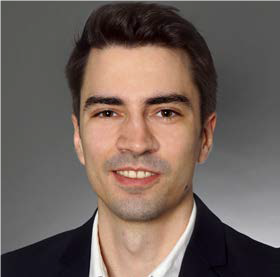 Mr. Becker, what challenges do you see in the development of new sensor systems for NDT processes?
One of our goals at the Fraunhofer Institute for Nondestructive Testing IZFP is to develop systems that apply new concepts in sensor signal processing. A good example of this is manual testing, where a wide range of boundary conditions must be taken into account; good manageability, miniaturization of the entire sensor system, low latency of signal transmission, and real-time dataprocessing. This requires a close look at the entire signal chain to ensure that data processing and transmission are as energyefficient as possible and without major delays. It is also important to classify the data in advance in order to simplify error detection for the inspector as much as possible. This can lead to a significant improvement in the quality assurance process.
What research topics are you working on at Fraunhofer IZFP?
At the core of my research is the development of novel concepts for energy-efficient microarchitectures and AI accelerators. For this purpose, a "Field Programmable Gate Array"(FPGA) initially serves as a development platform. The systems developed on it are intended to accelerate data processing, operate as energy-efficiently as possible, and implement new concepts of biologically inspired information processing. In such and similar research topics, we work in close cooperation with institutes of the Fraunhofer Group for Microelectronics – for example in the innovation program "TRAICT"(TrustedResource-Aware ICT). Here, the participating research teams from 18 Fraunhofer institutes jointly investigate system architectures and their components with regard to their trustworthiness and energy efficiency.
What exactly are you working on right now?
I am currently working on the implementation of an eddy current testing system for manual testing. So far, a demonstrator has been realized, which will be optimized in the future, especially with regard to energy efficiency and performance: thus, data can be transferred and displayed on a smartphone via Bluetooth after an analog-to-digital conversion of the sensor signal. For this purpose, we have carried out the necessary programming of the microcontroller in our team and developed an app that displays the data on the smartphone screen.
What do you find particularly exciting about it?
For us, it is interesting to achieve the lowest possible latency between the physical interaction with the test object, the data processing on the microcontroller and the final display on the smartphone screen. A latency of 100 ms is already clearly too long for manual testing. In the future, the linking of several sensor signals and the associated classification of the data will be realized.
Kevin Becker, born in 1991 in Homburg, studied electrical engineering and information technology at Technical University of Darmstadt, majoring in "Integrated Micro- and Nanotechnology" and "Sensors, Actuators and Electronics", and graduated with a Master of Science degree in 2020. As part of his master's thesis, he developed a 10 Gbps high-speed transceiver in TSMC's 28 nm HPC technology. Since November 2020, he has been working as a PhD student at Fraunhofer IZFP, where he is conducting research in the field of energy-efficient real-time data processing for sensor systems in nondestructive testing.